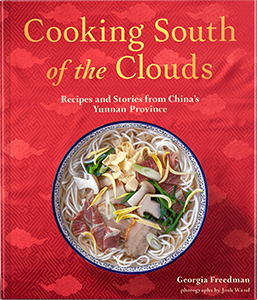 Cooking South of the Clouds:
Recipes and Stories from China's Yunnan Province
By Georgia Freedman
Photographs by Josh Wand
Blog: Our Travels in Yunnan
Georgia Freedman unveils China's best-kept culinary secret, giving us a rare glimpse into the cooking of Yunnan province. More than a cookbook, it's an intimate journey through culinary traditions almost unknown in the West. Josh Wand's photos of the region's countryside, villages, markets, and dishes paint a stunning portrait of Yunnanese cuisine and life. Cooking South of the Clouds deserves a place of honor in every collection of Chinese cookbooks.
— Grace Young, James Beard Award-winning author of Stir-Frying to the Sky's Edge
How thrilling to have Yunnan's rich food traditions explored and explained in such generous detail, with warmth and understanding. The book is loaded with enticing recipes and photos that will please both cooks and armchair travellers. It's a great guide to this gateway to southeast Asia, where people of many cultures have found a home and created a multi-layered cuisine that I find endlessly fascinating.
— Naomi Duguid, author of Burma: Rivers of Flavor, and Taste of Persia
In Cooking South of the Clouds, Georgia Freedman presents a thorough primer and loving homage to one of China's most intriguing and delicious regions. Buy this book if you've visited or thinking of visiting Yunnan, or if you want to expand your knowledge of Chinese cuisine.
— Andrea Nguyen, author of Into the Vietnamese Kitchen and The Pho Cookbook
Cooking South of the Clouds: Stories and Recipes from China's Yunnan Province takes the reader on a captivating journey into the little-known foodways of China's most ethnically and climactically diverse province. Employing a traveller's eye for the unique, a journalist's attention to detail, and a cook's antennae for deliciousness, author Georgia Freedman has filled her cookbook with surprising and enticing recipes interspersed with engaging profiles of Yunnan's cooks, farmers, and food artisans and concise enlightening essays on the province' history, ethnic and religious cultures, and key ingredients. Josh Wand's stunning images of people, places, and dishes round out Freedman's lyrical narrative beautifully. Cooking South of the Clouds is a cookbook to curl up with, keep on the night table and, most importantly, have at the ready in the kitchen. Freedman's evident passion for Yunnan, its people and its cuisines, along with her depth of research and breadth of knowledge, place her firmly alongside such recognized Chinese cuisine experts as Grace Young and Fuchsia Dunlop.
— Robyn Eckhardt, author of Istanbul and Beyond and EatingAsia.com
It takes a person who is obsessively passionate about a cuisine to produce a great cookbook. Georgia Freedman has this passion for Yunnan cooking, a regional Chinese cuisine that has recently been receiving extraordinary attention around the world. In Cooking South of the Clouds Freedman does not simply offer authentic recipes, but also illuminates how the culture, custom and environment influence the cooking from one of the most diverse regions of China. Freedman's recipes introduce western readers to traditional dishes expertly adapted to the modern kitchen, in itself a challenging feat.
— Kian Lam Kho, author of Phoenix Claws and Jade Trees
A delicious love letter to the people and cuisines of Yunnan. Gorgeous and well researched, Cooking South of the Clouds is a game changer. It opens previously hidden doors into some of China's most remarkably diverse and deliciously unique cuisines.
— Carolyn Phillips, author of All Under Heaven: Recipes from the 35 Cuisines of China
Georgia Freedman's smart and comprehensive and book is a must-have for anyone interested in Chinese cooking.
— James Oseland, editor-in-chief of World Food and judge on Top Chef Masters